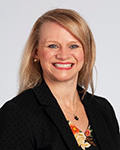 Meredith A. Foxx is the Executive Chief Nursing Officer (ECNO) at Cleveland Clinic. In this role, she leads the health systems' nearly 30,000 nursing caregivers within the Stanley Shalom Zielony Institute for Nursing Excellence. She oversees nursing clinical practice, professional development, education and outcomes where all aspects of nursing care occur across the continuum, administering and directing nursing operations, integration, growth, as well as financial, regulatory and business activities.
Previously, Meredith served as interim ECNO and as Associate Chief Nursing Officer (ACNO) for Advanced Practice Nursing and Nursing Quality and Practice.
Meredith received her Master of Business Administration from Case Western Reserve University in Cleveland and her Master of Science in nursing and Bachelor of Science in nursing from the University of Pennsylvania in Philadelphia.
Meredith established innovative initiatives, such as Nursing Shared Governance Day and has achieved many nursing quality and safety successes. She is the recipient of numerous awards and sits on various national and regional nursing boards, associations and committees. She has also served as adjunct and clinical faculty for nursing schools, advanced practice nursing students at several colleges and universities.