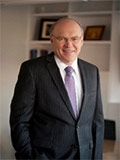 Lars G. Svensson is the Chief of Cleveland Clinic's Heart, Vascular & Thoracic Institute (HVTI). He leads a team of 230 physicians and surgeons and 175 physician trainees, overseeing the quality and operations of all departments, specialty centers and clinics.
Dr. Svensson sits on organization-wide task forces to maintain Cleveland Clinic's standing as the nation's best place for heart care and helped establish HVTI-sponsored continuing medical education. He is an internationally known cardiovascular and thoracic surgeon, Director of the Marfan Syndrome and Connective Tissue Disorder Clinic and Professor of Surgery at Cleveland Clinic's Lerner Research Institute and Case Western Reserve University.
Dr. Svensson received his medical degree from the University of Witwatersrand Faculty of Medicine in Johannesburg, South Africa, and his doctorate at Witwatersrand. He completed a general surgery residency and fellowship at Johannesburg General Hospital, a residency and fellowship in cardiothoracic surgery at Baylor College of Medicine and a cardiovascular fellowship at Cleveland Clinic.
With more than 600 peer-reviewed articles published, multiple patents and 19 inventions, Dr. Svensson was named one of the most influential researchers of the past decade. Dr. Svensson is also President-Elect of the American Association for Thoracic Surgery. He sits on many boards, including the American Association of Thoracic Surgery and is a member of the American College of Surgeons, the Society of Thoracic Surgeons and the American College of Cardiology.