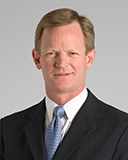 Mr. Peacock has served as the Chief of Operations at Cleveland Clinic since 2009. In this role he is responsible for the Clinic's Buildings and Property, Supply Chain, Clinical Engineering, Patient Support Services, Protective Services, Hotels, Office of Sustainability and International Operations.
Before joining Cleveland Clinic, he served 24 years in the United States Navy, retiring as a Captain in the Civil Engineer Corps. Mr. Peacock held two major commands: One in Japan, where he managed the facilities, construction and real estate needs of Navy and Marine Corps forces across the Pacific Rim; the second, leading a battalion of naval construction force "Seabees" in several deployments to Pacific, Middle East, and Central and South American nations.
He is a member of the American Society of Healthcare Executives, the American Society of Healthcare Engineers. He graduated with a Master's of Science in Electrical Engineering from Purdue University and a Bachelor of Science in Electrical Engineering from the US Naval Academy. He attended the Kellogg School's Advanced Executive Program.