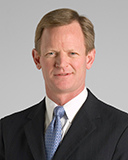 William (Bill) M. Peacock, III is Cleveland Clinic's Chief of Operations. In this role, he is responsible for the Clinic's buildings and design, supply chain, clinical engineering, patient support services, protective services, hotels, international operations, marketing and philanthropy. Under his guidance, Operations is tasked with ensuring every facility is designed and operating at optimal levels to address patients' needs. This includes supplies, functional operations, clinical equipment, food services, patient transportation, environmental services, parking services, safety, security and more.
Previously Bill served 24 years in the United States Navy, retiring as a Captain in the Civil Engineer Corps.
Bill graduated with a bachelor's degree in electrical engineering from the U.S. Naval Academy and a master's degree in electrical engineering from Purdue University. He also attended Northwestern University's Kellogg School of Management Advanced Executive Program.
Bill is a member of the American Society of Healthcare Executives and the American Society of Healthcare Engineers.