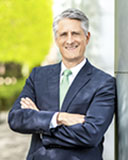 Robert Lorenz is the Chief Executive Officer of Cleveland Clinic London. In this role, Dr. Lorenz continues to build on Cleveland Clinic London's excellent reputation, driving value, growth and innovation, as well as furthering Cleveland Clinic's collaboration with the NHS.
Previously, Dr. Lorenz was Executive Medical Director of Market and Network Services for Cleveland Clinic. He led all aspects related to Cleveland Clinic's contracting for specialty care, including innovative payment models for both government and commercial contracts. From 2008 to 2011, Dr. Lorenz, a head and neck surgeon, was the first Chief Medical Officer of Cleveland Clinic Abu Dhabi. There he was responsible for creating the first-ever transfer of Cleveland Clinic business and medical services model and culture to a non-Western country.
Dr. Lorenz graduated from the University of Rochester School of Medicine with honors. He completed his residency in otolaryngology at Cleveland Clinic, and surgical fellowship at Vanderbilt University. He also received an Executive MBA with Distinction from London Business School.
He holds two U.S. patents for head and neck surgical innovations, and he has authored more than 100 peer-reviewed publications and book chapters. Twice named a Teacher of the Year, Dr. Lorenz prides himself as a mentor and coach to fellow caregivers.