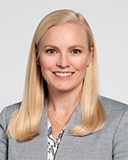 Beri Ridgeway is Chief of Staff at Cleveland Clinic. In this role, she leads more than 4,000 physicians, scientists and doctors. She was involved in the first responses to the pandemic and developed teams to wind down surgical services in preparation for the surge of patients with COVID-19. She managed initiatives to increase access for patients via surgical cases, face-to-face visits and telehealth.
Previously, Dr. Ridgeway served as Associate Chief of Staff; Institute Chair of the Obstetrics, Gynecology and Women's Health Institute; and as the inaugural academic Chair for Cleveland Clinic Lerner College of Medicine Department of Obstetrics, Gynecology and Reproductive Biology.
Dr. Ridgeway graduated from the University of California, San Francisco School of Medicine. She completed her residency in obstetrics and gynecology at the University of California, San Diego School of Medicine and a fellowship in female pelvic medicine and reconstructive surgery and minimally invasive surgery at Cleveland Clinic.
Dr. Ridgeway authored more than 80 peer-reviewed articles and 10 book chapters. She presents regularly at national and international meetings. Dr. Ridgeway maintains an active clinical practice alongside her colleagues and continues to improve the quality of life for her patients.