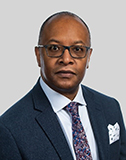 Dylan Wint is the Director of Cleveland Clinic's Lou Ruvo Center for Brain Health in Las Vegas. The Center has one of the largest research and clinical trial portfolios in Cleveland Clinic. In addition to caring for patients, Dr. Wint oversees the center's clinical, research and educational initiatives, as well as its strategic growth.
Dr. Wint has been Director of Education since 2010 and Founding Director of the Fellowship in Behavioral Neurology and Neuropsychiatry since 2012. He also previously served as Director of Clinical Operations for the Lou Ruvo Center.
Dr. Wint graduated from the University of Miami's Miller School of Medicine. He completed residencies in neurology and psychiatry and a fellowship in deep brain stimulation at the University of Florida. He also completed a clinical research fellowship in neuroimaging at the National Institutes of Health.
Dr. Wint is actively involved in his medical and local communities. He is a member of the Nevada Governor's Task Force on Alzheimer's disease, the American Academy of Neurology Conference Subcommittee, the Roseman University College of Medicine Curriculum Committee, the UNLV School of Dental Medicine Advisory Board and the Project Uplift Business Advisory Board. He is a frequently invited speaker and panelist at regional and national conferences.