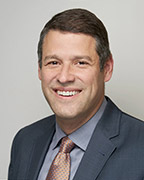 Mike Kessel is the President and CEO of Cleveland Clinic Canada and is responsible for the growth of the Canadian facility, strategic partnerships and enterprise value creation.
Prior to joining Cleveland Clinic in 2009, Mr. Kessel was Co-founder and Vice President of Business Development and Finance for the Center for Partnership Medicine at Northwestern Memorial Hospital /Trio Health in Chicago. In this role, Mr. Kessel was instrumental in the development of a network of executive health and wellness programs with leading medical centers throughout the United States. The program was ranked as one of the top in the country by Forbes and Fortune magazines.
Mr. Kessel was also Finance Manager and then Interim Finance Director for Cardinal Health Medical Products and Services, a manufacturer of medical, surgical and laboratory products in Illinois. Additionally, he was Co-founder and the Chief Financial Operations Officer for Ignition State Group, LLC, a web strategy and development firm based in Chicago.
In addition to his work at Cleveland Clinic Canada, Mr. Kessel is active in the Toronto community as a board member of the Heart and Stroke Foundation of Ontario and a committee member of the Conference Board of Canada. He is also an active member of Young Presidents Organization and serves on the Maple Leaf chapter's New Member Committee.