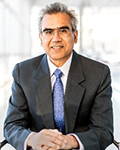 Rohit Chandra is Cleveland Clinic's Chief Digital Officer. In this role, he oversees the Information Technology Division and leads digital innovation throughout Cleveland Clinic's global health system. Dr. Chandra works to accelerate Cleveland Clinic's digital transformations in areas including artificial intelligence, machine learning and big data to improve access to care and enhance the patient and caregiver experience.
Previously, Dr. Chandra was Vice President of Engineering at Sunshine Products, a technology startup in Palo Alto, California. In this role, he led the engineering team, leveraging sophisticated algorithms to solve a range of everyday problems and tasks, including the creation of Sunshine Contacts. Prior to that, he was Senior Vice President of Search and Advertising at Verizon Media, where he was responsible for merging products and teams from Yahoo and AOL after their acquisitions by Verizon.
Dr. Chandra holds a bachelor's degree from the Indian Institute of Technology, Kanpur, India, as well as a doctorate in Computer Science from Stanford University.
Dr. Chandra was a fellow with the TELI (Technical Executive Leadership Initiative) Program. He is the co-author of a book on parallel programming and holds numerous patents.