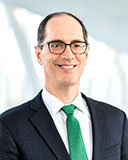 Dr. Regueiro is the Chief of Cleveland Clinic's Digestive Disease Institute. In this role, he focuses on innovation, new models of care, research and clinical excellence for physicians and providers working in his institute.
Previously, Dr. Regueiro served as Chair of the Digestive Disease & Surgery Institute, Chair of Cleveland Clinic's Department of Gastroenterology, Hepatology and Nutrition and Vice Chair of the Digestive Disease & Surgery Institute. Before coming to Cleveland Clinic, Dr. Regueiro was a Professor of Medicine, as well as Clinical and Translational Science at University of Pittsburgh School of Medicine.
Dr. Regueiro graduated from Drexel University College of Medicine and completed his internal medicine internship, residency and clinical and research fellowship in gastroenterology at Harvard Medical School's Beth Israel Deaconess Medical Center. He also completed physician and healthcare executive leadership training at the University of Pittsburgh's Katz Graduate Business School, The Wharton School at The University of Pennsylvania and Cleveland Clinic.
Dr. Regueiro is a recognized presenter and author on inflammatory bowel disease. He is also an active member of the Crohn's and Colitis Foundation, the Crohn's and Colitis Young Adults Network and is a Co-Chair for the annual Advances in Inflammatory Bowel Diseases Conference.