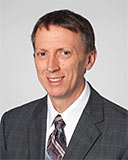 Brian Harte is President of Cleveland Clinic's South Submarket. In this role, Dr. Harte oversees safety and quality of patient care for more than a dozen healthcare locations in northeast Ohio, including Lodi Hospital and three Health and Wellness Centers. He led the integration of Akron General into the Cleveland Clinic health system. Dr. Harte is a practicing hospitalist.
Previously, Dr. Harte was President of Akron General, Hillcrest and South Pointe hospitals. He's also the former Chair of the Department of Hospital Medicine and the Medicine Institute at Cleveland Clinic.
Dr. Harte earned his medical degree from the University of Pennsylvania. He completed his residency at the University of California, San Francisco. Dr. Harte is board certified by the American Board of Internal Medicine. He serves as an Associate Professor of Medicine at Cleveland Clinic Lerner College of Medicine.
Dr. Harte is a board member of Leadership Akron, Akron Roundtable and the Ohio and Erie Canalway Coalition. He is the past president of the Society of Hospital Medicine and was designated a Master of Hospital Medicine (MHM) in 2019. He is also a delegate to the Regional Policy Board of American Hospital Association.