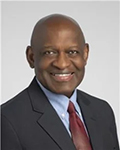 Alex A. Adjei is the Chief of Cleveland Clinic's Cancer Institute. In this role, he provides leadership and direction, facilitates operations and is responsible for implementing strategic initiatives. He also coordinates cancer care and research at Cleveland Clinic main campus and regional hospitals.
Previously, Dr. Adjei was Chair of Taussig Cancer Institute, a consultant in oncology, Professor of oncology and Professor of pharmacology at Mayo Clinic and Mayo Clinic College of Medicine and Science in Rochester, Minnesota.
Dr. Adjei graduated from the University of Ghana Medical School in Accra, Ghana, and earned his doctorate from the University of Alberta in Edmonton, Canada. He was Chief Resident in the Department of Medicine at Howard University in Washington, D.C. Dr. Adjei also completed a clinical fellowship as a clinical and research fellow in oncology at the Johns Hopkins University School of Medicine and Hospital in Baltimore.
He has received the International Association for the Study of Lung Cancer Award for Distinguished Service in Lung Cancer Research and Mentorship and the European Society of Medical Oncology Lifetime Achievement Award. Dr. Adjei is the Editor-in-Chief of the Journal of Thoracic Oncology and the JTO Clinical and Research Reports and has authored over 300 peer-reviewed publications.