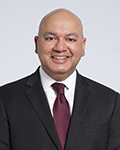 Jim Cotelingam is Cleveland Clinic's Chief Strategy Officer. In this role, he oversees enterprise strategy, strategic transactions, market analytics and implementation of major strategic initiatives.
Previously, Jim was Cleveland Clinic's Executive Director of Strategy. In this role, he helped establish the organization's five-year strategic framework, worked closely on the Mercy Medical Center transaction, formed local and international growth plans and developed new market modeling capabilities to guide capital investment. Prior to coming to Cleveland Clinic, Jim was the Senior Vice President of Strategy at Trinity Health, in Livonia, Michigan. In this role, he was responsible for both enterprise and market-level strategy, led the development of Trinity Health's strategic plan and implemented key growth initiatives.
Jim graduated with a master's degree in health services administration from the University of Michigan in Ann Arbor, Michigan.
Jim is a member of the Society for Health Strategy and Market Development (SHSMD). He was also recently selected as one of the "Top 50 Great Health System Chief Strategic Officers" by Becker's Hospital Review.