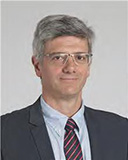 Bartolome Burguera is the Chief of the Medical Specialty Institute at Cleveland Clinic. In this role, he oversees all the medical specialty departments. Dr. Burguera focuses on the role of bariatric medicine and nonsurgical weight-loss interventions to treat obesity and diabetes. He is also a Professor of Medicine in the Cleveland Clinic Lerner College of Medicine.
Previously, Dr. Burguera was the Chair of the Endocrinology and Metabolism Institute, a Staff Physician at Cleveland Clinic and Director of Obesity Programs in the Department of Endocrinology and Metabolism Institute.
Dr. Burguera graduated from the University of Santiago de Compostela's Faculty of Medicine in Spain. He completed research fellowships at East Carolina University and the National Institutes of Health before completing his residency in internal medicine at Norwalk Hospital in Norwalk, Connecticut and a fellowship in endocrinology at Mayo Clinic in Rochester, Minnesota. He holds a doctorate evaluating the role of glucocorticoid on the neuro-regulation of growth hormone secretion.