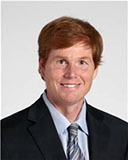 Neil P. Smith is the President of Cleveland Clinic's West Submarket. In this role, he oversees and leads the strategic direction of several hospitals. Among his many responsibilities, he works with Institute Chiefs and other Cleveland Clinic leaders to develop and implement programs for quality improvement, ongoing monitoring of patients and continuing medical education.
Previously, Dr. Smith was President of Fairview Hospital and Vice President of Medical Operations at Fairview Hospital. He's also held roles as the Chief of Staff and Assistant Chief of Staff at Fairview Hospital. Dr. Smith maintains an active private practice in internal medicine.
Dr. Smith graduated from Ohio University Heritage College of Osteopathic Medicine in Athens, Ohio. He completed a residency in at Mt Sinai Medical Center. While at Mt. Sinai Medical Center, Dr. Smith was the Medical Resident of the Year.
Dr. Smith is actively involved in his community, including participation in the Differential Diagnosis Class for area high schools and Kamm's Corner Development Corporation.