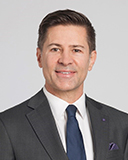 Patrick J. Byrne is the Chief of Cleveland Clinic's Integrated Surgical Institute. In this role, Dr. Byrne leads Cleveland Clinic's efforts to become a world leader in patient care, outcomes, education, safety, innovation and research.
Previously, Dr. Byrne was the Chair of Cleveland Clinic's Head and Neck Institute, Director of the Division of Facial Plastic and Reconstructive Surgery in the Department of Otolaryngology/Head and Neck Surgery at The Johns Hopkins Hospital in Baltimore, Maryland.
Dr. Byrne graduated from the UC San Diego School of Medicine. He completed a surgical internship at the University of California San Francisco and a residency in otolaryngology/head and neck surgery at the UC San Diego School of Medicine. He completed a fellowship in facial plastic and reconstructive surgery at the University of Minnesota Medical School /Children's Minnesota, and a fellowship in Health Care Management at the Advisory Board Company in Washington, DC. Dr. Byrne also earned an MBA from The Wharton School of the University of Pennsylvania.
Dr. Byrne is internationally recognized as a facial plastic and reconstructive surgeon and head and neck surgeon. He also founded several startups and was an early investor/chief medical officer in others. He has led volunteer teams worldwide, including providing surgical care to children with facial deformities in Nicaragua.