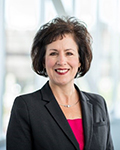 Dr. Hancock is Executive Chief Nursing Officer, CCHS and Chief Nursing Officer, Main Campus. She oversees the Chief Nursing Officers at Cleveland Clinic's ten regional hospitals and Cleveland Clinic Florida, along with currently serving as Chief Nursing Officer at Cleveland Clinic's Main Campus since July 2011.
She is responsible for directing the clinical, academic and operational activities of the nursing staff throughout the health system, as well as the focus of nursing throughout the various institutes on the main campus. She administers and directs nursing integration and operations, as well as the financial, regulatory and business activities throughout the Nursing Institute.
Prior to her position, Dr. Hancock served as the Chief Nursing Officer at Main Campus. She has simultaneously been the Senior Nursing Director of Critical Care and the Nursing Director of the Heart and Vascular Institute, where she led the nursing practice in the Heart and Vascular Institute for seven years.
Dr. Hancock received her DNP from Chamberlain College of Nursing in 2015 and she obtained her MSN from Breen School of Nursing at Ursuline College in Pepper Pike, Ohio. She is a board certified Nurse Executive through the American Nurse Credentialing Center, a member of the American Organization of Nurse Executive , the American Association of Critical Care Nurses, and the Honor Society of Nursing - Sigma Theta Tau International. She was awarded the Distinguished Alumnae Award from Ursuline College in 2013, the ANCC Circle of Excellence Award in 2012, the 2010 Maria and Sam Miller Professional Excellence Nurse of the Year Award, is a recipient of the "Bruce Hubbard Stewart Fellow Award," and was awarded "The Abbie Porter Leadership Award" which highlights Nursing Leadership in 2002 and 2009.