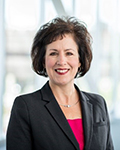 K. Kelly Hancock is first-ever Chief Caregiver Officer at Cleveland Clinic and the Rich Family Chief Caregiver Chair. With a focus on enhancing the health system's unique team-based culture, Dr. Hancock leads strategic development and implementation of all aspects of caregiver engagement for Cleveland Clinic's 74,000+ caregivers, both in the United States and internationally. She advises in areas such as leadership, coaching, employee relations, talent acquisition, compensation, organizational design and change, performance management, learning development and more. She also oversees daily operations for the human resources and nursing teams.
Previously, Dr. Hancock was Executive Chief Nursing Officer for Cleveland Clinic and Chief Nursing Officer for main campus — a dual role she held for nine years.
Dr. Hancock graduated with her doctor of nursing practice from Chamberlain College of Nursing and her Master of Science and Bachelor of Science in nursing from the Breen School of Nursing at Ursuline College in Pepper Pike, Ohio. She is a member of the Fellows of the American Academy of Nursing and a board-certified nurse executive.
Dr. Hancock serves on numerous boards and committees and has received many awards and honors, including Smart Business 2022 Smart Women Awards Progressive Woman Award Honoree, LinkedIn Top Voices Frontline Healthcare, 50+ Hospital and Health System CNOs to Know, Crain's Cleveland Business 2018 Notable Women in Healthcare and the Ursuline College Distinguished Nursing Alumnae Award.