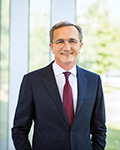 Tom Mihaljevic, MD, is CEO and President of Cleveland Clinic, one of America's top hospitals (U.S. News & World Report).
He leads a $12.4 billion globally integrated healthcare system with a main campus, 22 hospitals, and 226 outpatient locations, including facilities in Florida, Nevada, Toronto, Abu Dhabi and London. Cleveland Clinic has 72,500 caregivers worldwide, including 5,050 physicians and scientists.
Under Dr. Mihaljevic's leadership, Cleveland Clinic's mission is: Caring for life, researching for health, educating those who serve.
His vision is to make Cleveland Clinic the best place for care anywhere and the best place to work in healthcare.
Dr. Mihaljevic's guiding principles are to treat patients and caregivers like family and Cleveland Clinic as our home. He strives to care for each community we serve, and to grow Cleveland Clinic in order to serve as many people as possible.
Dr. Mihaljevic, a renowned cardiovascular surgeon, previously served as CEO of Cleveland Clinic Abu Dhabi (CCAD), where he also was Chief of Staff and Chairman of its Heart & Vascular Institute. He oversaw the opening of the hospital in 2015, establishing CCAD's reputation for clinical excellence, research, education and patient experience.