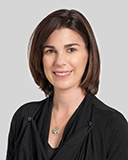 Corinne Ehretsman is the Executive Director of Clinical Institute Administration. In this role, she serves as a key liaison in the Chief of Staff office for recruitment, financial performance, analysis, reporting, budgeting, forecasting and compliance reporting. Corinne directs the administrative physician practice management infrastructure across 18 clinical service-lines, which represents 1.3B operating margin. Corinne is responsible for strategic direction for the Clinical Institutes and multi-year Clinical Service-Line planning across northeast Ohio, including advancement in population health.
Previously, Corinne was the Executive Director of Medical and Surgical Operations. Corinne also served as Chief Administrator for Cleveland Clinic Children's Hospital and Cleveland Clinic Children's Hospital for Rehabilitation. Corinne has been with Cleveland Clinic for over 20 years. Prior to her work with Cleveland Clinic, Corinne worked for General Electric, Healthcare Corporate Benefits Division in Schenectady, New York.
Corinne holds a Masters of Business Administration from Union University, as well as a Bachelor's of Science in Psychology and Economics from Union College.