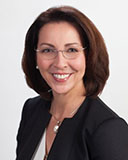 Sonya Pease is an anesthesiologist and is serving as the Chief Quality, Safety and Patient Experience Officer for Cleveland Clinic Florida. In this role, she works with her team to determine the best strategy to become the safest and highest quality integrated healthcare system in Florida. She oversees the development and implementation of quality, safety and patient experience clinical best practices, as well as operating procedures for regulatory, accreditation, infection prevention and clinical risk to ensure safe care for our patients and a safe environment for our caregivers.
Dr. Pease graduated from the University of Florida and then the Medical College of Georgia and completed her residency in anesthesiology at Jackson Memorial Medical Center & Miami Children's Hospital in Miami, Florida. She obtained her MBA from Haslam College of Business from the University of Tennessee.
Dr. Pease is the recipient of the Florida Society of Anesthesiologists (FSA) Distinguished Service Award for her patient safety advocacy. She is the past president of the FSA and serves on several national committees, including the American Society of Anesthesiologists and Technical Expert Panels for the Centers for Medicare and Medicaid Services (CMS).