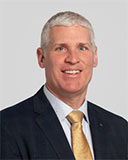 Timothy R. Barnett is Cleveland Clinic Lutheran Hospital's Vice President and Chief Medical Officer. In this role, Dr. Barnett leads the daily operations for the 200-bed community hospital and has advanced service lines to meet the needs of this ethnically and socio-economically diverse and medically underserved population. He also coordinates outpatient services and works to build strong relationships with city and community leaders and stakeholders. Dr. Barnett has significantly increased surgical volume since 2021 and has expanded the hospital's Behavioral Health footprint to become the largest in the Cleveland Clinic system and in Northeast Ohio.
Previously, Dr. Barnett was the Chief Medical Officer at Cleveland Clinic Fairview Hospital.
Dr. Barnett graduated from The Ohio State University College of Medicine and is board-certified in General Surgery. He completed his General Surgery residency at Fairview Hospital. Dr. Barnett has been an Assistant Professor of Surgery at the Cleveland Clinic Lerner College of Medicine since 2016 and is a member of Cleveland Clinic's teaching faculty in the General Surgery residency program.
Dr. Barnett is a member of the American College of Surgeons, the Midwest Surgical Association, the American Hernia Society and Ohio City Incorporated.