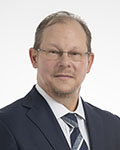 Dennis Laraway is the Chief Financial Officer at Cleveland Clinic. In this role, he is responsible for all financial operations and corporate finance strategies for the enterprise.
Most recently, Dennis served as Executive Vice-President and Chief Financial Officer for Banner Health based in Phoenix, Arizona.
Previously, Dennis held Chief Financial Officer positions for Memorial Hermann Health System in Houston, Texas, and Scott & White Healthcare in Temple, Texas. Dennis also served as Chief Financial Officer for various markets within Dignity Health (Phoenix, Arizona) and Ascension Health (Troy, New York).
Dennis holds a master's degree in business administration from the Lally School of Management at Rensselaer Polytechnic Institute in Troy, New York. Dennis has held several academic appointments, most recently as Adjunct Professor for Rice University, Houston, Texas.