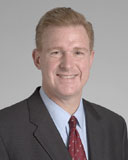 Paul Matsen is the Chief Marketing and Communications Officer at Cleveland Clinic. In this role, he leads marketing and communications for the global enterprise, including development of the brand, digital strategy, media relations, caregiver communications and patient acquisition programs. Paul led the highly successful Centennial communications campaign, development of Cleveland Clinic's website and social media strategies and has transformed the brand into a global leader.
Previously, Paul was the Executive Vice President and Chief Marketing Officer at Delta Airlines.
Paul graduated with a bachelor's degree from Rutgers University in New Brunswick, New Jersey and completed the Harvard Business School Executive Education Program.
Paul is a member of the Board of Trustees at Hathaway Brown School in Shaker Heights, Ohio and a board member of Destination Cleveland.