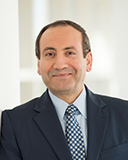 Raed Dweik is the Chief of Cleveland Clinic's Integrated Hospital Care Institute. In this role, Dr. Dweik sets the Institute's strategic direction in all areas of clinical care, research and education and oversees its day-to-day operations. Dr. Dweik is also a Professor of Medicine at Cleveland Clinic Lerner College of Medicine. He has a joint appointment in the Lerner Research Institute where he established a Research Center of Excellence in Pulmonary Vascular Disease and maintains a research laboratory funded by the National Institutes of Health.
Dr. Dweik graduated from the University of Jordan School of Medicine in Amman, Jordan. He completed his internal medicine residency at Ohio's Wright State University and completed a fellowship in pulmonary and critical medicine at Cleveland Clinic. He also earned an MBA from Case Western Reserve University.
Dr. Dweik is the recipient of numerous awards, including the Cleveland Clinic Outstanding Innovation in Translational Medicine Award and is a multiple recipient of the Distinguished Teacher Award from Cleveland Clinic's Internal Medicine Residency Program. Dr. Dweik has published more than 300 manuscripts and book chapters and serves on several journal editorial boards.