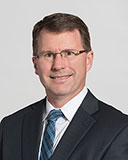 Dr. Gutierrez is a primary care Internal Medicine physician and has been with Cleveland Clinic for over 25 years. In his current role as Chief of the Primary Care Institute, he provides enterprise oversight of primary care, wellness, executive health, and concierge services.
Prior to his current role, Dr. Gutierrez served as a member of the Executive team at Cleveland Clinic London, leading quality, safety, patient experience and regulatory preparedness for a new private surgical hospital that opened in central London in March, 2022. He has also served as the Chair of the Department of Community Internal Medicine, as well as the President and Medical Director for the Cleveland Clinic Medicare ACO. He also served a five-year term on Cleveland Clinic's Board of Governors / Medical Executive Committee.
Dr. Gutierrez received his BA in Biochemistry (1986), as well as his MD degree (1990), from Case Western Reserve University in Cleveland, Ohio. He completed his residency in Internal Medicine, followed by a Chief Residency year, at Yale-New Haven Hospital in New Haven, CT.
His interests include safety and quality in healthcare, patient experience and engagement, and physician leadership development.