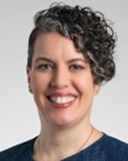 Sarah Hatchett is a results-driven leader with over 19 years of experience in healthcare IT leadership. She has been at Cleveland Clinic for the past 6 years and is currently serving as the Interim Chief Information Officer.
In ITD, she has led Enterprise Applications, Division Administration, and Growth & Global Design functions.
As Division Administrator, Ms. Hatchett built the IT business office function and managed both capital portfolio and operating budget for the division. She facilitated IT strategic plan development and successfully aligned supporting programs and processes. While leading Growth & Global Design, Ms. Hatchett designed and implemented the operationally driven IT intake process and the global governance model. She led the IT integration at Mercy, Martin Health, and Indian River, as well as the EHR Transformation program.
Her current portfolio includes oversight of over $500M of projects, health system integrations, new hospital constructions, routine capital projects, and IT operations.
In 2022, Ms. Hatchett became a College of Healthcare Information Management Executives (CHIME) Certified Healthcare CIO. The CHCIO program is the only certification designed exclusively for leaders in health information technology and represents one of the highest professional achievements in the industry.
Prior to joining Cleveland Clinic, Ms. Hatchett worked at Epic, Sutter Health, and NYC Health + Hospitals. She received her bachelor's degree in English from the University of Wisconsin-Madison and her Executive MBA from Baldwin Wallace University.