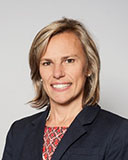 Rebecca Starck is the Vice President and Chief Medical Officer of Cleveland Clinic Avon Hospital. In this role, she is responsible for ongoing oversight of quality, safety, hospital operations and clinical service line development. Dr. Starck is also a practicing Ob/Gyn at Cleveland Clinic and a Clinical Assistant Professor at Cleveland Clinic Lerner College of Medicine.
Previously, Dr. Starck served as the Chair of the Regional Department of Ob/Gyn for Cleveland Clinic. In that role, she was responsible for clinical operations, strategic planning, quality and management of approximately 85 Ob/Gyn physicians practicing throughout northeast Ohio.
Dr. Starck graduated from the University of Michigan Medical School and completed her residency in obstetrics and gynecology at William Beaumont Hospital.
Dr. Starck is a Fellow of the American Congress of Obstetricians and Gynecologists. She has served on multiple external boards and committees, including the Executive Board of First Year Cleveland from 2018 to 2021. She continues to serve on the Three Arches Foundation Board, the Lorain County Community College Board of Directors, the Lorain County Health Improvement Steering Committee, as well as the Second Harvest Board of Directors. Dr. Starck has provided key leadership in the Lorain County Community Response to the COVID-19 pandemic in collaboration with municipal and school-based leaders.