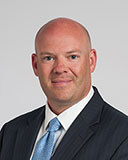 As Executive Director of Professional Staff Affairs, Mr. Donnelly leads the professional staff affairs and staff governance operations of the Cleveland Clinic. He is responsible for the employment environment of a professional staff of nearly 4,000 physicians and scientists, assuring that Cleveland Clinic attracts and retains a professional staff of the highest quality. Mr. Donnelly joined the Cleveland Clinic's Law Department as Associate Counsel in August of 2006 and was appointed Director of Litigation in January of 2009. Two years later, he was promoted to Deputy Chief Legal Officer and served in that role until November 2018, when he was named to his current position.
Prior to joining Cleveland Clinic, Mr. Donnelly was a trial attorney at a defense litigation firm in Cincinnati, Ohio where he represented clients in a wide variety of civil and criminal litigation matters.
Mr. Donnelly received his undergraduate degree from the State University of New York at Fredonia and his law degree from the University of Dayton School of Law.