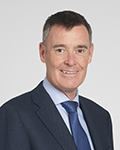 Conor Delaney is the Executive Vice President and President of the Cleveland Clinic Florida Market. In this role, he oversees a region that includes five hospitals, a state-of-the-art research center and numerous outpatient centers located in five counties across southeast Florida.
Previously, Dr. Delaney served as Chairman of Cleveland Clinic's Digestive Disease and Surgery Institute. He was responsible for the departments of Colorectal Surgery, Gastroenterology, Hepatology, Nutrition and General Surgery throughout Cleveland Clinic.
Dr. Delaney graduated from the University College Dublin Medical School in Ireland, where he also received a master's degree in surgery. He received his doctorate in surgery from the University of Pittsburgh. Dr. Delaney completed a residency through the Royal College of Surgeons in Ireland, a transplant immunology fellowship at the University of Pittsburgh and a colorectal surgery fellowship at Cleveland Clinic.
Dr. Delaney is the incoming President of the American Society of Colon and Rectal Surgeons. He is also Cleveland Clinic's Robert and Suzanne Tomsich Distinguished Chair in Healthcare Innovation and a Professor of Surgery at the Cleveland Clinic Lerner College of Medicine. He has published 17 books, more than 400 original manuscripts and chapters and has given over 450 lectures nationally and internationally.