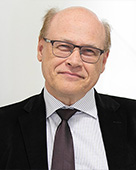 Tommaso Falcone is Chief of Staff and Chief Academic Officer of Cleveland Clinic London. In his role, Dr. Falcone leads all caregivers at Cleveland Clinic London. He also guides the strategic direction of education programs.
Additionally, he is Professor of Obstetrics, Gynecology and Reproductive Biology at the Cleveland Clinic Lerner College of Medicine.
Previously, Dr. Falcone was Vice Chairman of Professional Staff Affairs, a member of the Board of Governors and the Executive Team, Chair of the Department of Obstetrics & Gynecology and Chair of the Women's Health Institute at Cleveland Clinic.
Dr. Falcone has published more than 500 original manuscripts, abstracts, and book chapters. He is co-editor of eight books, including the textbooks, Clinical Reproductive Medicine and Surgery (Springer third edition 2017) and Operative Techniques in Gynecologic Surgery (Wolters Kluwer 2017).
He was a senior author on the first publication on gynecologic robot surgery and a member of the team that performed the first uterus transplant in the U.S.
He has served on the editorial board of several journals. He is editor-in-chief of JMIG. He is past President of the Society for Reproductive Surgeons (SRS) and President of the International Society for Fertility Preservation (ISFP-2019-2020).