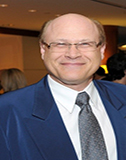 Tommaso Falcone is Cleveland Clinic London's Chief of Staff, Chief Academic Officer and Medical Director. In this role, Dr. Falcone leads the recruitment efforts and training of Cleveland Clinic London's medical and allied health professionals. He is responsible for the development and administration of all clinical programs and Institutes and all educational and research programs (except nursing).
Previously Dr. Falcone was the Chair of the Obstetrics, Gynecology and Women's Health Institute from 2008 to 2018.
Dr. Falcone graduated from McGill University Faculty of Medical and Health Sciences. He also completed his Obstetrics and Gynecology residency and Reproductive Endocrinology fellowship at McGill University.
Dr. Falcone was a member of the team that performed the first uterus implant in the U.S. and was the leader of the team that performed the first robotic gynecologic surgery in the world. He has published more than 500 original manuscripts, abstracts and book chapters. He is the author or co-author of more than 285 articles in peer-reviewed journals and editor or co-editor of seven books. He is also the editor in chief of the Journal of Minimally Invasive Gynecology.