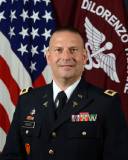 Thomas J. Rogers is Vice President and Chief Medical Officer of Cleveland Clinic Union Hospital. In this role, he oversees all the hospital's operational, governance and financial activities. With his leadership team, Dr. Rogers develops and implements strategic plans consistent with enterprise goals, manages clinical affairs and works with leaders across the Cleveland Clinic health system. He also develops relationships with clinical institutes and private practice providers in the area.
Previously, Dr. Rogers was the Director of the DiLorenzo Pentagon Health Clinic in Washington, DC. He has held numerous positions in the U.S. Army over a 29-year career. He's served as Chief Medical Officer and Chief Executive Officer of a large community hospital in Fort Carson, Colorado, as well as a regional Chief Medical Officer for Regional Health Command-Pacific in Honolulu, Hawaii.
Dr. Rogers earned his medical degree from Wright State University School of Medicine in Dayton, Ohio. He completed a residency in family medicine at DeWitt Army Community Hospital (now Fort Belvoir Community Hospital) in Fort Belvoir, Virginia.
Dr. Rogers is a retired Colonel in the U.S. Army, where he earned many awards and recognition throughout his career. He was raised in North Canton, Ohio and is a lifelong Cleveland sports fan.