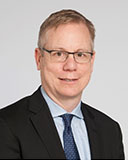 Brian Rubin is a Professor and Chair of the Robert J. Tomsich Pathology and Laboratory Medicine Institute. In his role, he oversees 1,800 caregivers and 115 staff members who process more than 20 million tests each year. Dr. Rubin led his team to launch, expand and maintain SARS-CoV-2 (COVID) testing during the pandemic, resulting in more than 1.5 million tests in two years. He is also responsible for the institute's academic and research mission.
Previously, Dr. Rubin served as the Director of Soft Tissue Pathology, as well as Vice Chair of the Research, Pathology and Laboratory Medicine Institute.
Dr. Rubin earned his medical degree and his doctorate in molecular biology from Cornell University Medical College. He completed his residency in anatomic pathology at Brigham and Women's Hospital and received fellowship training in soft tissue pathology, bone pathology and cancer genetics.
After college, Dr. Rubin was a Peace Corps volunteer working in malaria control in Thailand. He's a founding member of the International Society of Bone and Soft Tissue Pathology, as well as a member of many other healthcare societies. Dr. Rubin is recognized for the diagnosis and classification of soft tissue neoplasms, especially sarcomas.