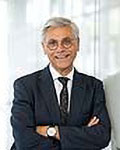 Jorge A. Guzman is the Chief Executive Officer at Cleveland Clinic Abu Dhabi (CCAD). In this role, he is responsible for providing the leadership, direction, administration and management of all aspects of CCAD activities to comply with established objectives and the delivery of world class healthcare services. Dr. Guzman is also a consultant staff physician in the Critical Care Institute at CCAD.
Previously, Dr. Guzman was Vice President of Regional Hospital Medical Operations at Cleveland Clinic's main campus in Cleveland, Ohio.
Dr. Guzman completed his residency in internal medicine and a fellowship in critical care medicine at the Hospital Privado de Comunidad, Mar del Plata in Argentina. He completed an additional fellowship in critical care medicine at Wayne State University in Detroit, Michigan. Dr. Guzman also holds a master's degree in healthcare business administration from Baldwin Wallace University in Berea, Ohio.
Dr. Guzman has served in many leadership positions at Cleveland Clinic and at hospitals throughout the United States. He has also authored or co-authored more than 50 scientific papers in peer-reviewed medical journals and book chapters.