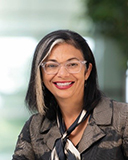 Lara A. Kalafatis was named chairman of Philanthropy Institute, Cleveland Clinic on January 9, 2017. She is responsible for all philanthropic initiatives and capital campaign for Cleveland Clinic. She will oversee "The Power of Everyone One" two billion dollar campaign that launched in June 2014. Lara is a member of the Executive Team of Cleveland Clinic.
Previously, Lara served as vice president for university relations and development at Case Western Reserve University.
As Vice President for University Relations and Development, Lara was responsible for university programs and development that engage and support the campus community. Constituents include alumni, donors, trustees, and friends that support and advocate for CWRU. Lara managed the CWRU campaign, Forward Thinking, with a goal of $1.5 billion dollars that raised critical funding for key capital projects, scholarships, faculty and their programs.
Prior to her role as vice president for university relations and development, she served as vice president of university relations in which she strengthened internal and external relations with alumni and communications by leading the re-branding efforts for the university including the implementation for the current logo and new magazine "Think".
In 2004, Lara was the senior liaison from the university to the Commission on Presidential Debates, directly responsible for attracting the event to CWRU and in leading the community-wide effort of programs that created the Race at Case.
Lara lives with her family in Rocky River, raising her son, Oscar (8). Spring 2007, Lara was inducted into Leadership Cleveland. Fall of 2006, Crain's Business Cleveland recognized Lara as part of the 40 under 40 class for her leadership and community involvement.