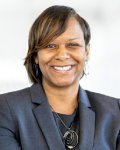 Vickie Johnson is Cleveland Clinic's first Chief Community Officer.
She leads Cleveland Clinic's efforts to nurture healthy communities, improve our neighbors' lives and meet their evolving needs.
Vickie guides strategic community planning nationally and internationally while cultivating collaborations with local institutions, government agencies, elected officials and healthcare professionals to bring about meaningful change.
Vickie has decades of leadership experience in Cleveland's nonprofit, government and business sectors. She most recently served as Cleveland Clinic's Senior Director, Government and Community Relations, where she led the initiative to attract a Meijer grocery store and bring affordable housing to the Fairfax neighborhood adjacent to Cleveland Clinic's main campus; facilitated a $52.5 million gift to support lead safety in Cleveland homes; and designed Cleveland Clinic's Louis Stokes Summer Internship Program to foster future healthcare workers.
Previously, Vickie was Executive Director of the Fairfax Development Corporation and, before that, Manager of the Housing Construction Office for the City of Cleveland's Department of Community Development.
She holds a master's degree in public administration from Cleveland State University, a bachelor of arts degree in political science from Baldwin-Wallace College, and is completing a doctorate in urban studies and public affairs at Cleveland State University.
Vickie serves on numerous boards and committees and has received many awards, including the Greater Cleveland Partnership Richard A. Shatten Professional Leadership Award.