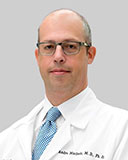 Andre Machado is the Chief of the Neurological Institute and the Charles and Christine Carroll Family Endowed Chair in Functional Neurosurgery. Dr. Machado performs deep brain stimulation (DBS) surgery for patients with Parkinson's disease, tremor, dystonia and obsessive-compulsive personality disorder, as well as surgical procedures for patients with trigeminal neuralgia, intractable pain syndromes and spasticity.
Dr. Machado is a Professor of Neurosurgery at the Cleveland Clinic Lerner College of Medicine and has Joint Appointments in the Departments of Neuroscience and Biomedical Engineering. Previously, Dr. Machado was Chair of the Neurological Institute, a Chairman for the Joint Pain Section of the CNS/AANS and Vice President of the American Society of Stereotactic and Functional Neurosurgery.
Dr. Machado is an Associate Chief of Staff at Cleveland Clinic and leads several enterprise-level projects with the Office of the Chief of Staff, including innovations in the model of care and a new program for professional career development.
Dr. Machado received his medical degree from the University of Sao Paulo in 1997. He completed his residency in the same institution in 2003 and obtained his PhD in 2004. He came to Cleveland Clinic in 2004, completed his fellowship in Stereotactic and Functional Neurosurgery in 2006 and has been on the staff at Cleveland Clinic since then.
Dr. Machado leads several deep brain stimulation and neuromodulation clinical trials as well as laboratory research. His research in deep brain stimulation for thalamic pain syndrome was awarded the National Institutes of Health Director's New Innovator's Award. His current research is aimed at developing novel treatments to promote rehabilitation after stroke and other acquired brain injuries and is funded by the NIH BRAIN initiative.