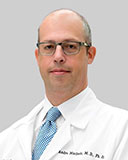 Andre Machado is the Chair of the Neurological Institute at Cleveland Clinic and the Charles and Christine Carroll Family Endowed Chair in Functional Neurosurgery. Dr. Machado is a Professor of Neurosurgery at Cleveland Clinic Lerner College of Medicine and also serves as an Associate Chief of Staff.
In this role, Dr. Machado oversees more than 300 physicians and scientists dedicated to the treatment of adults and children with disorders of the brain, spine and nerves. Dr. Machado performs surgery for patients with movement disorders and chronic pain and leads several clinical trials, as well as laboratory research.
Previously, Dr. Machado was the Director of Cleveland Clinic's Center for Neurological Restoration. In this role, he oversaw a multidisciplinary team of specialists dedicated to the medical and surgical management of movement disorders and chronic pain.
Dr. Machado graduated from the School of Medicine at the University of São Paulo in Brazil, where he completed his neurosurgery residency and earned his doctorate in experimental neurology. He completed a fellowship in stereotactic and functional neurosurgery at Cleveland Clinic.
Dr. Machado's research in deep brain stimulation for thalamic pain syndrome was awarded the National Institutes of Health (NIH) Director's New Innovator's Award. His current research funded by the NIH is aimed at developing novel treatments to promote rehabilitation after stroke and traumatic brain surgery.