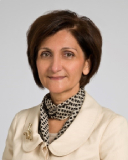 Serpil Erzurum is Cleveland Clinic's Chief Research and Academic Officer and Chair of the Lerner Research Institute. Dr. Erzurum focuses on strategic growth of enterprise-wide medical and scientific education programs; clinical, basic and translational research; and technology development to deliver the most innovative care to patients. A practicing pulmonologist and active scientist, Dr. Erzurum is also a Professor of Medicine at the Cleveland Clinic Lerner College of Medicine.
Dr. Erzurum graduated from Northeast Ohio Medical University. She completed her residency in internal medicine at Baylor College of Medicine, a fellowship at the University of Colorado Health Sciences Center and postdoctoral training at the National Heart, Lung and Blood Institute in Bethesda, Maryland.
Dr. Erzurum has won numerous awards, including the prestigious MERIT award from the National Heart, Lung and Blood Institute, the American Medical Women's Association Award for Excellence and the Elizabeth Rich Award from the American Thoracic Society in recognition of her efforts mentoring women. She is a member of the National Academy of Medicine, the American Society for Clinical Investigation and the Association of American Physicians. Dr. Erzurum has published more than 300 articles and is among the top 1% cited researchers in the world.