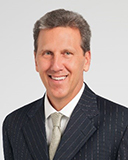 Stefan joined the Cleveland Clinic in 2015 in the new role of Chief Investment Officer. He has over two decades of investment experience, including the management of diversified endowment portfolios and portfolios of direct investments. He is responsible for the strategic direction and investment management of the Clinic's investible financial assets, which includes the long-term investment portfolio, a defined benefit pension fund, and a captive insurance fund.
Prior to joining the Cleveland Clinic, Stefan was the Vice President and Chief Investment Officer of The Annie E. Casey Foundation, a national private philanthropic organization he served for ten years. Earlier in his career, Stefan was a member of the general partner in two early stage venture capital firms and worked in commercialization and licensing of university-developed technology.
He is an active volunteer and currently serves on the serves on the Investment Committees of the Planned Parenthood Federation of America and the Maryland State Retirement and Pension System. Stefan holds an undergraduate degree from Washington College and a graduate degree from Johns Hopkins University.