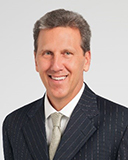 Stefan Strein is Cleveland Clinic's Chief Investment Officer. In this role, he is responsible for the strategic direction and investment management of Cleveland Clinic's $15 billion in investible financial assets, which includes the short- and long-term investment portfolios, defined benefit pension funds and a captive offshore insurance trust. Stefan also co-Chairs Cleveland Clinic's Retirement Committee, which oversees $11 billion in defined contribution assets invested for the organization's 70,000 caregivers.
Previously, Stefan was the Vice President and Chief Investment Officer of The Annie E. Casey Foundation, a national private philanthropic organization.
Stefan holds a bachelor's degree in liberal arts from Washington College and a master's degree in business with majors in finance and international business from Johns Hopkins University.
Stefan serves on the Advisory Boards of several financial/investment organizations, including ABRY Partners, Altos Ventures, Felicis Ventures, Flare Capital, Flagship Pioneering, FPV Ventures, Greenspring Associates/Stepstone, Willis Towers Watson and Sponsors for Educational Opportunity. He also serves on the Investment Committee of The Cleveland Foundation and is a content advisor to the Goldman Sachs Healthcare CIO Forum and the Cambridge Associates CIO Forum. Stefan is a frequent speaker and panelist at the NMS Forums.