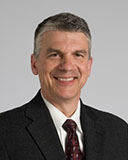 Richard D. Parker is the President of Cleveland Clinic Hillcrest Hospital. In this role, and in collaboration with the Respiratory Institute, he helped create 24/7 inpatient intensivist coverage. He also established the OB Emergency Department at Hillcrest and was an instrumental leader throughout the Covid-19 pandemic.
Previously, Dr. Parker was President of Cleveland Clinic Marymount Hospital.
Dr. Parker graduated from The Ohio State University College of Medicine. He completed his residency in orthopaedic surgery at Mount Sinai Medical Center in Cleveland and a sports medicine fellowship at Orthopaedic Specialty Hospital in Salt Lake City, Utah.
Dr. Parker is the recipient of the Kappa Delta Donor Award and is the head team physician for the Cleveland Cavaliers. He is a member of the American Academy of Orthopaedic Surgeons, the American Orthopaedic Society of Sports Medicine, the Arthroscopic Association of North America and the International Society of Arthroscopic Knee Surgery and Orthopaedic and Medicine. He is also a national and international presenter and is the author of more than 200 publications.