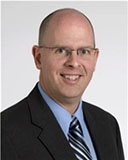 Richard K. Shewbridge, MD, FACP is the Vice President and Chief Medical Officer of Cleveland Clinic Medina Hospital. In this role, he sets standards with accountability, safeguards compliance with regulations and ensures that the hospital is aligned with Cleveland Clinic standards — including financial performance and maintaining strong community partnerships. Dr. Shewbridge also remains active as a practicing endocrinologist.
Previously, Dr. Shewbridge served as Medina Hospital's Vice President of Medical Operations. He was also on the inaugural steering committee for Cleveland Clinic's affiliation with the National Diabetes and Obesity Research Institute in Tradition, Mississippi.
Dr. Shewbridge graduated from Wayne State University School of Medicine in Detroit. He completed an internship and residency in internal medicine and a fellowship in endocrinology, diabetes and metabolism in the United States Air Force.
Dr. Shewbridge serves on the Board of the Greater Medina Chamber of Commerce and is a member of the Endocrine Society and the American Diabetes Association. He is an Assistant Professor of Clinical Internal Medicine at Northeast Ohio Medical University and a Clinical Assistant Professor of Medicine at Cleveland Clinic Lerner College of Medicine. Dr. Shewbridge is also a member of Medina Hospital's Diversity Council and received a Cleveland Clinic Caregiver Award in 2021 for his work supporting the Lift Every Voice effort supporting diversity, equity and inclusion.