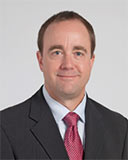 Donald A. Malone is the Executive Vice President and President of Cleveland Clinic's Northeast Ohio Market. In this role, he oversees Cleveland Clinic's main campus, including all inpatient and outpatient facilities, all Ohio regional hospitals, family health centers and ambulatory sites.
Previously, Dr. Malone was the President of Cleveland Clinic's Ohio Hospitals and Family Health Centers, the Chair of Psychiatry and Psychology at Cleveland Clinic and President of Cleveland Clinic Lutheran Hospital.
Dr. Malone graduated from Northeastern Medical University and is board-certified in psychiatry. He completed his psychiatric residency at Massachusetts General Hospital.
Dr. Malone is an active member of various local and national committees. He is a fellow of the American College of Psychiatrists, a member of the Executive Leadership Team for the American Heart Association Heart Walk and a board member for Community West Foundation. Dr. Malone has authored numerous publications based on his research, primarily in the areas of anxiety disorders, anabolic steroid use and abuse, ECT and Deep Brain Stimulation. He has also presented on these topics both nationally and internationally.