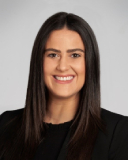 Andrea Zwischenberger is the Senior Director of Executive Administration at the Cleveland Clinic.
In this role, she serves as administrative partner to the Chief Executive Officer (CEO) and President and the executive leadership team. She advances enterprise-wide, strategic priorities through project design, implementation, and management. Andrea organizes key leadership meetings and enterprise communications from the CEO to caregivers and the Board of Directors and Trustees. She also oversees the Ideas for Tomorrow speaker series.
Prior to her position in Executive Administration, Andrea was an Administrative Fellow in 2011-2012 at Cleveland Clinic. This is a 1-year post-grad intensive project-based fellowship designed to prepare future healthcare administrators and leaders.
Andrea holds a Masters of Health Services Administration from the George Washington University and a Bachelors of Science in Public Health, magna cum laude, from the George Washington University. During graduate school, she completed Administrative Internships at Sibley Memorial Hospital and University of Kentucky Healthcare.
Andrea lives in downtown Cleveland, Ohio with her husband. She is a member of the American College of Healthcare Executives and volunteers with the Junior League of Cleveland.