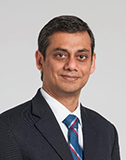 Madhu Sasidhar is the Vice President and Chief Medical Officer of Cleveland Clinic Martin Tradition Hospital. In this role, he oversees the daily operations of this state-of-the-art acute care facility in Port St. Lucie, Florida. Dr. Sasidhar manages teams of globally trained caregivers with data-driven problem solving and has a proven track record of executing growth strategies and value-based care initiatives.
Previously, Dr. Sasidhar was the Chief Medical Officer of Cleveland Clinic Abu Dhabi (CCAD) in the United Arab Emirates. He managed clinical operations and was instrumental in growing both outpatient and surgical volume, as well as increasing hospital transfers to CCAD.
Dr. Sasidhar earned his medical degree from the Jawaharlal Institute of Postgraduate Medical Education and Research in Pondicherry, India. He completed his residency in internal medicine at St. Luke's Roosevelt Hospital Center in New York. He also completed a fellowship in pulmonary and critical care medicine at Yale University and received an MBA from Insead in Fontainebleau, France.
Dr. Sasidhar has published numerous book chapters, journal and peer-reviewed articles, abstracts and presentations and has been invited to speak on various topics at many industry events. He holds a patent through Cleveland Clinic Innovations for a technology he invented that was subsequently commercialized. Dr. Sasidhar is also a self-taught computer programmer with expertise in big data platforms.