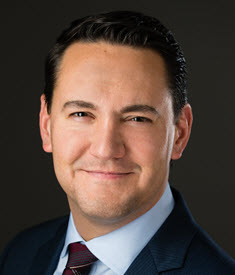 Chad V. Minor, MBA, FACHE, is chief of workforce strategies and associate chief caregiver officer for Cleveland Clinic health system. In his role, Minor is focused on unifying Cleveland Clinic's enterprise approach to all workforce needs, ensuring the global health system has the workforce necessary to achieve its intended strategies. Overseeing workforce strategies for approximately 70,000 caregivers, he leads strategic workforce planning, productivity, optimization, analytics, remote workforce solutions, and more. Minor collaborates closely with Cleveland Clinic's chief caregiver officer to further enhance the health system's unique team-based culture and position Cleveland Clinic as the best place to work in healthcare. Additionally, he leads the operations and business functions of Cleveland Clinic's Caregiver Office, including nursing operations and human resources operations. Most recently, Minor served as system executive director of nursing operations for the Zielony Nursing Institute, which encompasses 24,000 caregivers. He led the institute's enterprise-wide operations, business activities, financial performance, strategic planning, health system integration, and administrative activities.
Minor has also served as institute administrator, finance director and assistant finance director for the Nursing Institute and was a senior project manager within Cleveland Clinic's division of finance. Prior to joining Cleveland Clinic in 2007, he held positions at KPMG LLP, where he provided risk advisory and consulting services to more than 25 domestic and international clients in healthcare and other industries. Minor is a firm believer in utilizing continuous improvement initiatives to achieve financial and operational excellence and has established health system benchmarks in both areas, leading change to exceed expected results. His executive direction has been paramount to Cleveland Clinic initiatives such as developing a centralized staffing office, eliminating medical supply waste, implementing predictive scheduling, integrating Cleveland Clinic Akron General, and activating Cleveland Clinic Avon Hospital, Cleveland Clinic Abu Dhabi and Cleveland Clinic London. Minor holds a Master of Business Administration and a bachelor's degree in business administration with a triple major. He is a Fellow of the American College of Healthcare Executives and a member of several professional healthcare organizations, Cleveland Clinic councils and committees, and community and charitable boards. Minor was selected for The Academy GE Fellows Program for Administrative Executives and recognized by Crain's Cleveland Business as a Forty Under 40 honoree.
Minor is known for his servant leadership, honesty, integrity, humility, and commitment to the development of others. Throughout his career, his steadfast leadership has helped Cleveland Clinic achieve notable goals, such as reducing care costs and responsibly growing and developing as an organization. His leadership efforts have driven forward key strategies focused around labor cost management, labor productivity, predictive analytics, system integration, and hospital activation. During his tenure as system executive director of nursing operations, he helped lead the Nursing Institute's transition from a holding company to an operating company with an integrated annual operating budget of $925 million and capital budget of $14 million, throughout the health system. He also established industry leading nursing benchmarks in both financial and operational performance that focus on "what matters most" and are utilized by all Cleveland Clinic hospital chief nursing officers to drive performance through leader standard work.