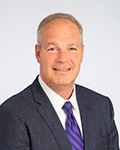 Anthony Helton is the Interim Chief Financial Officer at Cleveland Clinic. In this role, he is responsible for all financial operations and oversees the strategic direction and operations of the enterprise.
Previously, Anthony served as Executive Director of Revenue Cycle and Continuous Improvement within Finance at Cleveland Clinic. He also was Administrator for the Division of Finance and oversaw and managed the Clinic's debt portfolio.
Anthony graduated with a bachelor's degree in accounting and a master's degree in business administration, both from John Carroll University in University Heights, Ohio.
Anthony is also a board member of Community of Hope.