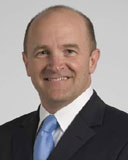 Mr. Glass is the Chief Financial Officer of the Cleveland Clinic. He joined the Cleveland Clinic in 2002 as the Controller and Chief Accounting Officer and served in that role until 2005, when he assumed his current role. Mr. Glass is responsible for all financial operations of the Cleveland Clinic Health System which includes eleven owned hospitals and two managed hospitals, and over 3,000 employed physicians in the Cleveland Clinic Medical Group. The Clinic has operations in Ohio, Florida, Nevada, Canada, and the United Arab Emirates.
Prior to joining the Cleveland Clinic, Mr. Glass was the Vice President of Finance for MedStar Health, where he spent fourteen years serving in various roles during its growth through mergers and acquisitions during the mid-nineties.
Mr. Glass received a Bachelor of Science degree in Accounting from Towson University and is a Certified Public Accountant. He is a member of the American Institute of Certified Accountants, Ohio Society of Certified Public Accountants, Healthcare Financial Management Association, Health Management Academy, and a Board Member of the Ohio Hospital Association.