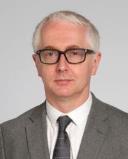 Christopher Connell was named Chief Design Officer of the Center for Design at Cleveland Clinic in June 2017. Connell will bring together the areas of Strategic Space, Design and Planning, Office of Healthy Environment, and the Arts and Medicine Institute.
In this newly created role, Connell is responsible for the creation, strategic alignment and execution of architecture and other design initiatives to create serene, restorative environments consistent with Cleveland Clinic. He brings a wealth of experience and insight to this new role that will leave a lasting impression on all who come to Cleveland Clinic.
Connell is responsible for the design of the new Health Education Campus for Case Western Reserve University and Cleveland Clinic. This is an ambitious project that goes beyond architecture to develop a new model for the future of Health Education. It incorporates two medical schools, a nursing faculty and school of dental medicine in an integrated teaching facility, which looks to the future of education and to further collaboration between the health sciences. He is also involved in the design of Cleveland Clinic London.
As a partner at Foster + Partners, Connell played a role in the creation of the Cleveland Clinic Master Plan, which was designed to provide a welcoming campus-like environment for patients and serve as a road map for future campus development.
Connell worked on more than 100 projects around the world in his 28 years at Foster + Partners, with his completed buildings receiving more than 40 awards.
Prior to beginning his career at Fosters + Partners in 1988, Connell studied Architecture at Glasgow School of Art, gaining his Baccalaurean with Honours in 1987 and Masters in 1989. In 1988 he won the Glasgow District Silver Medal, the John Keppie Scholarship and Glasgow Institute of Architects Parchment Award, gaining professional registration in 1990.