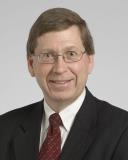 Don Sinko is Cleveland Clinic's Chief Integrity Officer. In this role, he oversees the audit and compliance programs that focus on risk management, regulatory compliance, business ethics and internal controls, with dotted-line oversight of information security for the Cleveland Clinic health system.
Previously, Don was the Director of Internal Audit at Eaton Corporation. In this role, he was responsible for an international audit staff, serving operations on six continents.
Don, a certified public accountant, graduated from Miami University in Oxford, Ohio, with a bachelor's degree in accounting.
Don is a frequent speaker on healthcare compliance, leadership, ethics, enterprise risk and process control. He has served on the Boards of Trustees of the Cleveland Council on World Affairs, The Arthritis Foundation of Northeastern Ohio, the Great Lakes Theater Festival, The Presbytery of the Western Reserve and the Miami University Isaac & Oxley Center for Business Leadership.