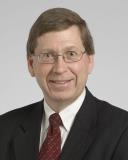 Don Sinko is the Chief Integrity Officer for Cleveland Clinic, with responsibility for the Offices of Internal Audit, and Corporate Compliance and Business Ethics. In this capacity, Don oversees the audit and compliance programs that focus on risk management, regulatory compliance, business ethics and internal controls for the health system.
Prior to joining the Cleveland Clinic, Don was the Director of Internal Audit at Eaton Corporation, responsible for an international internal audit staff serving operations on six continents. Prior to Eaton, Don was an Audit Senior Manager with Ernst & Young in Cleveland, serving primarily healthcare and SEC manufacturing clients.
Don, a certified public accountant and a graduate of Miami University, is a frequent speaker on healthcare compliance, leadership, and process control topics. He also has extensive board of trustee experience, having actively served on the Boards of Trustees of The Arthritis Foundation of Northeastern Ohio, Great Lakes Theater Festival, The Presbytery of the Western Reserve, and the Miami University Center for Business Excellence.