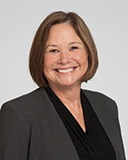 Tristi Muir is the Chief of the Obstetrics & Gynecology Institute and an urogynecologist at Cleveland Clinic.
Previously, Dr. Muir was Chair of the Women's Health Institute, a professor and Chair of the Department of Obstetrics and Gynecology at Houston Methodist Hospital in Houston, Texas. She also served in the U.S. Air Force, obtaining the rank of Lieutenant Colonel.
Dr. Muir graduated from Mayo Clinic School of Medicine in Rochester, Minnesota, and completed her residency in obstetrics and gynecology at Texas A&M Health Science Center, Scott and White Hospital in Temple, Texas. She also completed a dual fellowship in female pelvic medicine and reconstructive surgery and advanced laparoscopic surgery at Cleveland Clinic.
Dr. Muir has received numerous professional awards for her contributions to research, teaching and medical practice. She is a nationally and internationally recognized speaker on pelvic health and gynecology and is an active member of several national and international professional societies. Dr. Muir has authored many peer-reviewed scientific papers and textbook chapters. She has also been involved in humanitarian missions throughout her career.