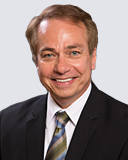 Mr. Michael Habowski is the President & CEO of the Ashtabula County Medical Center Healthcare System – an affiliate of the Cleveland Clinic Health System. He has served in this role since 2011. Mr. Habowski has more than 30 years of experience in healthcare, including leadership in healthcare system administration, operations, strategic planning, business development, physician practice management and clinical service line administration. Prior to joining ACMC, he served as Vice President of Clinical Services for seven years at Cleveland Clinic's Marymount and South Pointe hospitals.
Early in his career he worked as a Respiratory Therapist. He joined Marymount Hospital in 2004 where he built relationships with physicians, led the design of new surgery facilities and expanded clinical services such as Behavioral Health, Ambulatory Surgery, and Vascular Services.
Mr. Habowski has a Master of Business Administration in Administrative Management from St. Joseph's University in Philadelphia and a Bachelor of Science in Finance from Albright College in Reading, Pennsylvania.