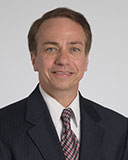 Michael J. Habowski is the President and Chief Executive Officer of the Ashtabula County Medical Center Healthcare System (ACMC), an affiliate of the Cleveland Clinic Health System. In this role, he is responsible for the operations, strategic planning, business development, physician practice management and clinical service line management at ACMC.
Previously, Michael was the Vice President of Clinical Services at Cleveland Clinic Marymount and South Pointe hospitals.
Michael earned a master's degree in business administration from St. Joseph's University in Philadelphia and a bachelor's degree in finance from Albright College in Reading, Pennsylvania.
Michael is the Board Chair for Community Care Ambulance and a Board Member (Executive Committee) of the county's largest business coalition.