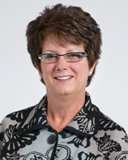 Linda McHugh was named Chief Human Resource Officer effective May, 2016. She was Acting Chief Human Resource Officer since February 2016. Prior to this she served as Executive Administrator for Cleveland Clinic and the Office of the CEO since 2005. She also served as the Assistant Secretary for the Board of Trustees and Directors, as well as serving on over 20 Institution-wide committees.
Ms. McHugh began her career at Cleveland Clinic as a Medical Technologist in microbiology. She later held administrative positions of increasing responsibility in several specialties and was involved in the recruitment and integration of physician practices in the region through the Division of Surgery. Prior to her position as Executive Administrator, Ms. McHugh helped to manage and nationally expand the Cardiac Surgery affiliate program model.
She holds a Master of Business Administration degree from The Weatherhead School of Management at CWRU and a Bachelor of Science in Medical Technology from Bowling Green State University. She also serves on the Board of Directors for the Cleveland Council on World Affairs and Notre Dame-Cathedral Latin High School where she chairs the Strategic Planning Committee.